Can Warm Weather Increase Bicycle and Pedestrian Accidents?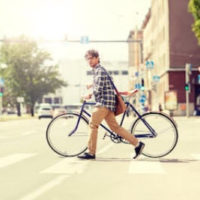 During the spring and summer months, warmer weather creates more opportunities for people to spend time outdoors. From cycling to running, more people spend more time outside, which may increase the possibilities of pedestrian accidents and injuries.
While it is important for cyclists and runners to be constantly vigilant near highways and roads, that alertness alone may not be sufficient to counteract the negligence of distracted or impaired drivers. As the weather warms, people are more inclined to stay outside longer, leading to more people in crosswalks, bike lanes, sidewalks, and curbs. So, what happens if you are a victim of a personal injury accident?
Bicycle Accidents
This spring in neighboring Pasco County, one accident on the highway left four cyclists severely injured when the liftgate of an 18-wheeler tore open and hit the group. Two of the cyclists faced emergency surgeries and induced coma as a result of their injuries.
Accidents between bicycles and automobiles are on the rise and unfortunately can happen unexpectedly. It is important to know your rights if you are a cyclist facing an injury caused by a collision.
If the driver of the vehicle was acting carelessly or recklessly, then you might be entitled to a legal remedy like payment for your wrecked bicycle and compensation for your medical bills, lost wages, or other related losses. In some severe cases, a person might also be eligible to file a legal claim for pain and suffering or physical impairment, including the diminished capacity of life happiness.
Pedestrian Accidents
Runners and joggers, as well as those pedestrians walking from place to place, can also be affected by people who operate a vehicle carelessly or recklessly.
Just this month in Ruskin, Florida, a fatal accident occurred when a woman started to cross the interstate and was struck by a Hummer.  In fact, the National Highway Traffic Safety Administration (NHTSA) reports that each year nearly 5,000 pedestrians die in motor vehicle-related accidents.
Drivers who are operating their vehicle dangerously can cause serious harm to human life. Drivers who are impaired, tired or distracted can be held legally liable for the injury caused to a person.
Seeking advice
No two accidents are the same, but the way police and insurance companies treat accidents between an automobile and a cyclist or a pedestrian usually will take the same path. First officers and insurance agents will try to determine who failed to execute their respective duty of care – or they will try to determine the cause of the accident.
Further, when injury or property damage occurs, a court or an insurance company may try to assign fault to a party by judging who breached their respective duty of care. In such cases, the law of negligence may apply to each party affected by the accident.
If you are recovering from an injury caused by a motor vehicle, you might be interested in exploring your legal options. It is always best to seek the advice of qualified attorneys who have experience in the field of personal injury, bicycle accidents, and pedestrian accidents. The skilled Tampa personal injury attorneys at Barbas, Nunez, Sanders, Butler & Hovsepian are eager to assist you throughout each step of your case.
Resources:
abcactionnews.com/news/region-hillsborough/fatal-pedestrian-crash-on-i-75-in-hillsborough-county-shut-does-southbound-lanes-for-more-than-5-hours
abcactionnews.com/news/region-pasco/at-least-4-bicyclists-hurt-in-hit-and-run-crash-in-port-richey
https://www.barbaslaw.com/what-is-premise-liability-and-how-does-it-impact-your-personal-injury-claim/