Common Workplace Injuries and the Most Dangerous Professions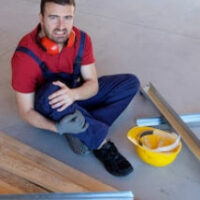 We've written in the past about getting worker compensation coverage for various kinds of accidents. But what are the most common workplace accidents? And what professions or jobs carry the highest risk of injury to a worker?
Types of Injuries Sustained by Workers
The National Safety Council estimates that a worker is injured while on the job every seven seconds nationally. If you extrapolate those numbers out, they amount to over 12,000 injuries per day, and over 4.5 million accidents and injuries every year.
Of course, there are different kinds of injuries that can occur while on the job. Surprisingly, the Safety Council's study found that the most common workplace injuries that lead to workers having to miss work, were those that could be sustained by anybody in even the most routine office settings.
Overexertion injuries, which can include repetitive actions, bending, twisting or lifting made the top three. The council also found that coming into contact with dangerous objects or equipment was a leading cause of injuries. This can include parts of the body being caught inside of machinery, or being crushed or struck by falling objects or material. It also can include debris going into the eyes, if proper eye gear is not worn.
Just like in normal personal injury cases, slips and falls made the top three. That includes the improper or unsafe use of ladders.
Lack of Sleep
The council also stresses that this list is just the list of actual injuries—it does not address the underlying cause for the accidents. For example, lack of sleep and worker fatigue are huge contributors to workplace injuries.
For driving professions, drowsy driving can be a huge risk. In fact, when limited to just deaths in the workplace, car accidents are the top cause of on the job fatalities, and about 20% of those accidents may involve drowsy drivers.
The council says that 38% of workers report being deprived of sleep, and workplace accidents are 30% higher in jobs where workers work night shifts. The same goes for jobs that begin earlier than 7am, and jobs with irregular, varying work hours or shifts.
Many injuries are also caused by poor safety signage, or improper or underused safety equipment.
The Most Dangerous Professions
The list of professions with the highest incidence of injuries that lead to days off work is a little more predictable. The number one profession was the emergency responder category, including police officers and firefighters.
Transportation and shipping industries were second, which makes sense given the hours spent on the road, and the exertion needed to loan and unload freight from trucks or trains. Rounding out the top 5 was manufacturing, installation/repair jobs, and jobs in the construction industry.
The Tampa workers' compensation attorneys at Barbas, Nuñez, Sanders, Butler & Hovsepian can help you if your workers' compensation is not paying what it is supposed to pay. Call us today to discuss obtaining damages for your injuries. Schedule a consultation today.
Resource:
nsc.org/Portals/0/Documents/Fatigue%20Documents/RiskiestWorkSchedules-Infographic.pdf
https://www.barbaslaw.com/what-if-you-disagree-with-your-workers-compensation-doctor/