Early Retirement and Social Security Disability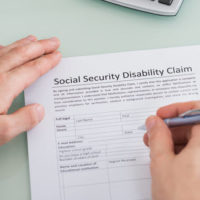 Let's say you were gainfully employed for 30 years or so, and then retired at age 55.  At age 57, you experience a debilitating accident, the effects of which have extended well over 12 months. Are you eligible for Social Security Disability? Many people find the Social Security rules and application processes cumbersome and confusing. It may be a wise move to get advice from a local Social Security attorney to assist you at this point.
Eligibility Requirements
Social Security Disability Insurance (SSDI) is a support program that is not generally available to individuals once they reach full retirement age; nor are persons who become disabled after full retirement age eligible. On the other hand, younger individuals who paid into the system during their working years and who retire from their jobs early, with or without the intent to return to work, may be eligible for SSDI if they meet specific criteria:
If during roughly half of the previous 10 years the person was gainfully employed;
Early retirement occurred at least in part due to disabling health issues;
Mental and/or physical health issues started or worsened following retirement;
The individual is currently not gainfully employed;
The disabling condition has lasted or is expected to last for at least one year.
Apply Quickly 
Early retirees who apply for SSDI need to be aware of their Date of Last Insurance (DLI). It generally is five years beyond one's last day of employment. Because the SSDI application process can take some time, it is essential to get started right away, and to be willing to keep at it when you hit roadblocks:
Appeal all denials. Reapplication may not be possible if you fail to make a timely appeal;
Be sure any information included in your application from your doctor(s) regarding your disability is related to symptoms experienced prior to your DLI expiration;
If your diagnosis did not occur prior to your DLI, ask your physician to make an educated inference based on your history as to the length of time your disability impacted your functionality prior to your DLI;
Fill out any forms related to your disability with information correlated to the period of time prior to your DLI expiration.
We Can Help 
Clearly, maneuvering through the regulations and expectations of the Social Security Administration can be a daunting task. Misunderstanding just one form or requirement can kick your application out of consideration.
Avoid the headaches that so many applicants encounter by having the experienced and knowledgeable team at Barbas, Nunez, Sanders, Butler & Hovsepian take you under our wing. We are well equipped to address your application and any potential appeals.  Contact us in Tampa for a free, confidential consultation today.