President's Fall Highlights The Dangers Of Slip And Fall Accidents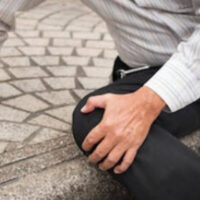 Just days ago, at an Air Force Academy graduation, the President of the United States fell over a sandbag that was on the ground, by the podium where he was to speak. He was, thankfully fine–but there is a lesson here: even if arguably the most protected human being in the world can still be a victim of negligence, so can all of us.
Article Highlights the Dangers of Falls

A recent news article, covering the fall, noted that of all the reasons why Floridians end up in the hospital. falls are the number one reason. That far exceeds crime, car accidents, sports injuries, and other things that tend to cause injuries.
Doctors report seeing a high amount of victims sustaining concussions in emergency rooms, caused by falling.
Elderly Are At Risk
Yes, older people tend to be at the highest risk; those aged 75-84 go to the hospital for falls more than any other age group. This is an age group that is more likely to have poorer balance, have slower reflexes, and who are less limber. They may also be more prone to be on medicine that can impair balance.
The injuries the elderly sustain, can also be worse. Falls can be devastating and catastrophic for this older population–in fact, falls are more often fatal now than they were 20 years ago by nearly double.
The concussions suffered by the elderly can mushroom into dementia, or can increase its onset. Many people report that older relatives in a fall "deteriorate," or that the fall causes a waterfall or snowball of other health problems, which did not exist before the fall. The elderly are also less able to fully recover from major surgeries that may be necessary after a fall.
Bones may be more brittle; when a younger person falls and breaks a fall with his wrist, he may suffer a fracture, and recover. An elderly person may suffer a more catastrophic injury to the wrist leading to permanent damage or immobility.
Seniors are more likely to get admitted into the hospital from the ER, than other age groups. About a quarter of seniors who present to emergency rooms from falls, end up admitted–a sign of a longer term, or more serious injury.
Younger People are Also Victims
But over 30,000 people in their 20s visited emergency rooms for falls as well. In fact, in 2021, 100,000 visits in emergency rooms were by children under the age of 15, although that does include falls from playgrounds and off of bicycles, and other non-accident related falls.
If the closely guarded President of the United States can fall over a sandbag that was on the ground, anybody can be a victim of a fall. Don't assume that you are OK after a fall. Get help immediately.
Contact the Tampa personal injury lawyers at Barbas, Nunez, Sanders, Butler & Hovsepian and schedule a consultation today for your free initial consultation if you are injured in a fall of any kind.
Sources:
sun-sentinel.com/2023/06/03/falls-are-more-hazardous-than-you-think-and-were-not-sandbagging-you/
flhealthcharts.gov/ChartsReports/rdPage.aspx?rdReport=ChartsProfiles.NonFatalEDVisitsProfileDASHBOARD#rdTabPanel-tbPanelUnintentional