Electrocution Injuries at Work are Too Common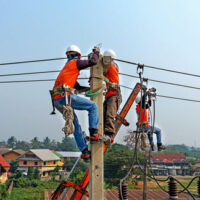 When you think of injuries that happen at work, you probably think of objects falling on people, people falling off of ladders or structures, broken bones, or sprains or strains from either acute injuries, or from repeated repetitive motion. You may not give much thought to electrocution, but electrocution is actually one of the most prevalent on the job injuries that workers who make workers' compensation claims suffer.
Who Suffers From Electrocution?
Whether you are an electric-related professional, such as an electrician, or your job description has nothing to do with electricity, it is very easy to be a victim of an electrocution. Imagine a common construction site laborer, with no formal training on electric wiring, and whose job does not require him or her to do anything with wiring or electricity.
If that worker were to move shrubbery or construction material, and that material were to touch a live wire—not an uncommon situation on a construction site—the worker could suffer electrocution. In fact, over 50% of electrocution injuries suffered at work occurred in construction-related fields.
Of course, if your job requires you to work with wiring or electricity, the risk of electrocution goes up even more.
Remember as well if you are an employee in Florida who works outdoors, that lightning is an always present threat. Getting hit by lightning while doing your job outdoors will qualify as an accident or injury that occurred as a result of your employment, allowing you to collect workers' compensation benefits.
Legal Requirements for Electrical Safety
Although workers' compensation law does not require that you find that your employer was negligent or that your employer did anything wrong, it is still useful to know that OSHA has strict safety requirements for employees who work with and around electricity. Some rules are that:
-Electrical apparatus outdoors must be kept in an enclosed container
-Any rooms with voltage of more than 600 volts must be clearly marked with signage that says "High Voltage"
-Any live electrical wiring must have protections to avoid accidental contact from occurring.
Injuries From Electrocutions
When someone is electrocuted, there is a very high mortality rate, and death can often occur.
Even if death does not occur, victims of electrocution can suffer extreme burns, nerve damage, and brain injuries. The electricity from a shock can also interrupt the heart's electrical rhythms, leading to cardiac arrest. Organ damage can also result, as can hearing loss or loss of vision.
Emotional changes can also occur. Research has shown that electrocution victims often suffer behavioral changes, loss of memory, and depression, very similar to the traumatic brain injuries you might expect to occur from a physical impact to the head.
The Tampa workers' compensation attorneys at Barbas, Nuñez, Sanders, Butler & Hovsepian can help you if you are injured on the job. That includes helping you recover for medical expenses, as well as lost wages. Call us today to discuss obtaining worker's compensation benefits for your injuries. Schedule a consultation today.
Resources:
sciencedaily.com/releases/2008/05/080515113311.htm
esfi.org/workplace-injury-and-fatality-statistics
https://www.barbaslaw.com/what-happens-when-a-workers-compensation-insurance-company-acts-in-bad-faith/