Nail Salons Can Lead To Serious Injuries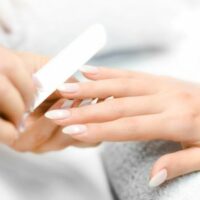 For many people, getting nails and toes done is a luxury, and perhaps a fun afternoon out with friends. You probably don't expect an outing to the local salon to be dangerous, but that's exactly what can happen if you aren't careful.
How Careful is Your Salon?
Have you noticed that when you go to any kind of doctor, the instruments that the doctors use are carefully sterilized? They aren't re-used, and if they are, they are cleaned in fluids or in desterilization machines? The environment is kept germ free; things like the paper on the examination beds are changed routinely.
This passion for avoiding germs often doesn't exist in nail salons–even though when you think about it, the process of manicures and pedicures is very close to a medical type procedure.
The skin around our nails is very delicate, and the work done by the technicians is very precise, and that work is often being done by very sharp instruments. Yet, many nail salons don't use the precautions that they should, when it comes to maintaining a safe and clean environment.
Add this to the fact that many nail salons don't hire experienced staff, or don't take the care that they should in training workers, or providing them the tools that they need to properly clean and sterilize their equipment.
Small Injuries Can Become Infected 
A small nick on your foot or finger may or may not be painful. Regardless, that small cut or nick can become dangerous, if bacteria and germs are allowed to enter, either because of exposure to the environment, or because the instruments being used are not completely clean and safe.
The end result, as many people have found out the hard way, can be infections so bad that they lead to amputation of fingers or toes. One woman in Florida had to have her entire foot amputated, after a nail salon infection. The woman had peripheral artery disease, which made her condition even worse.
Symptoms
If you are injured in a salon, be on the lookout for symptoms of infection, such as redness, swelling, or pain that radiates beyond the area of the actual wound. And if you have a pre-existing condition that could endanger you when it comes to wound healing, get to a doctor immediately.
Being Observant
There are some things you can do to reduce or minimize the risks at the local nail salon. The best advice is obvious: look around and see how the salon is maintaining its equipment and even its store. Is the store dirty, with instruments laying around? That's a bad sign. Do you see sterilization instruments and fluids, and does the technician use new instruments on new patients? That is a must. Staff should also be focused on what they are doing, not on phones, or watching TV.
We can help you if you have been injured in a nail salon. Call the Tampa personal injury attorneys at Barbas Nunez Sanders Butler & Hovsepian for help today.  Schedule a consultation today.
Sources:
usatoday.com/story/news/nation/2021/12/30/florida-woman-pedicure-amputation-settlement/9053734002/
businessinsider.com/nail-salon-lawsuit-pays-175m-florida-woman-lost-leg-pedicure-2021-12