Schezy and Steve Barbas Inducted into Loyola University New Orleans Lifetime Giving Society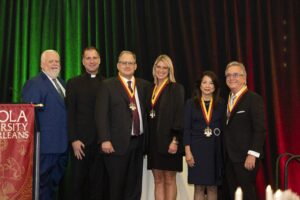 Founding Partner Steve Barbas and his wife Schezy were recognized for their philanthropy and inducted into Loyola University's Society of St. Ignatius lifetime giving at the 1912 Society Dinner held on December 2, 2022 at the Higgins Hotel in New Orleans.
Steve and Schezy's Loyola philanthropy has also included the establishment of the Stephen and Schezy Barbas Endowed Scholarship, as well as major contributions to the Law Class of 1979 Scholarship, the Jesuit Social Research Institute, and many other areas at the university and in the law school. They have been leading donors and volunteers at Loyola for many years. Their commitment to a broad array of Jesuit ministries is clear from Loyola University, to Jesuit High School in Tampa, to the Jesuit Social Research Institute, and the Jesuit Province. Steve is a former Loyola Trustee and served in volunteer leadership roles for the Law School and for JSRI.
The firm congratulates Steve and Schezy on receiving this prestigious honor!