What Is The Accident Report Privilege?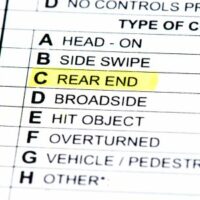 When someone is involved in a car accident there will often be a police report written up. That police report is important to your case—but it may not be as important as you may think. That's because there are restrictions as to how that police report can be used in court, should your personal injury case end up going to trial.
Criminal and Non-Criminal Infractions
Although we tend to think of our legal system as being divided up between civil matters (such as personal injury cases) and criminal matters, most traffic accidents are not criminal in nature. In most cases, the everyday citation results in what is known as a non-criminal offense.
If there is a major accident involved, or a death, or a DUI, or some other exacerbating circumstance, a standard traffic infraction can become criminal, but more often, it does not.
Regardless of whether a matter is criminal or non-criminal, there is still a law enforcement officer (or officers) involved, and thus, there is a police report written up. Many people look to the police report as the beginning and the end of the inquiry into who is responsible—if the on-the-scene officer determined the other driver was at fault, he or she must be at fault.
The Accident Report Privilege
Except that isn't always the case, because in most cases, police reports are inadmissible in court. That's because police officer testimony tends to carry a lot of weight—an unfair amount of weight. Allowing a jury to read a police report could prejudice the jury unfairly to one side or the other.
Additionally, we realize that police reports are based on hearsay, and that in most cases the officer did not witness the accident. The officer is not conducting a full scale inquiry into fault right there on the scene. He or she is drafting the report based on the accounts of witnesses at the scene. Those recollections may not be accurate, through no fault of the investigating officer.
Why the Accident Report is Still Important
But just because the officer's report is inadmissible, doesn't mean that his or her testimony is inadmissible. In fact, officers can be called to testify as to any information they may have about the accident, such as what they saw, or who told them what when they arrived on the scene of the accident.
However, because officers investigate so many traffic accidents every day, the likelihood of them having independent recollection of a single accident is slim.
Additionally, even though inadmissible, the report will be looked at by the insurance company. Insurance companies will often base offers to settle on the investigating officer's report. That makes it important to look over the report, and make any corrections where it looks like something is blatantly incorrect with the report.
The Tampa personal injury attorneys at Barbas, Nuñez, Sanders, Butler & Hovsepian can help you recover damages for injuries sustained in any kind of accident. Schedule a consultation today.
Resource:
law.cornell.edu/rules/fre/rule_403