Who is Liable When a Biker and Pedestrian Collide?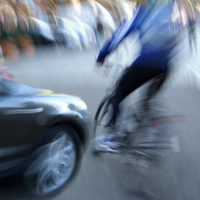 You may hear a lot of about bicycle/car accidents or pedestrian/car accidents, but it is not every day that you hear about pedestrian/bicycle accidents. This is because, in a nutshell, these types of accidents do not happen often – but that does not mean that they are non-existent. Bicyclists and pedestrians cross paths all the time and in many areas that do not have strict bicycling regulations, such as in the suburbs or the country. Recreational bicyclists may be able to reach speeds of up to 10 miles per hour, but bicycling enthusiasts and fitness cyclists can get up to nearly 20 miles per hour, or even faster if going downhill. If a pedestrian is hit at that speed, his or her risk of death is as high as 10 percent.
Death aside, bicycle/pedestrian accidents, when they do occur, often result in serious injury such as head trauma, fractures, breaks, spinal cord damage, cuts and burns, lacerations, internal injuries, and shock. If you are one of the few who has been hit by a bicyclist while walking—or vice versa, run into a pedestrian while riding—you may wonder who is liable for damages. A Tampa bicycle accident attorney may be able to help you determine just that.
Bicyclists' Duty of Care 
When determining liability in any type of accident case, whether it be between a cyclist and vehicle, pedestrian and vehicle, or pedestrian and cyclist, it is important to analyze each parties' duty of care. Though just about anybody can hop on a bike and use it as a mode of transportation, any person who does so should understand his or her responsibilities to other bikes, vehicles, and pedestrians on the road and sidewalks. If he or she does not understand bikers' obligations, he or she risks breaching his or her duties, which the courts may construe as negligence. Some common ways in which a biker may be negligent include the following:
The biker was riding a poorly maintained bike (for instance, the brakes did not work);
The biker did not abide by traffic signals (ran a red or a stop sign);
The biker failed to yield to a right of way;
The biker was distracted (using a cell phone);
The biker was biking under the influence;
The biker did not obey traffic control or directional road marks; or
The biker was not wearing proper safety equipment (reflective gear, helmets, etc.).
If the biker involved in the accident (whether it be you or the other party) was guilty of any of the above, he, she, or you may assume part of the responsibility for the accident.
Pedestrians' Duty of Care 
Like cyclists, pedestrians owe a duty of care to others on the road and walkways. In fact, pedestrians may owe a heightened duty of care to themselves and others, especially if walking in a big city. That said, the amount of care a pedestrian should exercise must correlate with the probable consequences of walking in any given area. Some ways in which a pedestrian may be found negligent are as follows:
He or she ignored traffic signals at an intersection;
He or she failed to walk in designated areas;
He or she failed to use marked crosswalks when crossing the street;
He or she attempted to cross the street despite the presence of oncoming traffic; or
He or she was intoxicated.
If the pedestrian in your accident (whether it be you or the other party) was guilty of any of the above, he, she, or you may assume partial responsibility for the accident.
Work With an Experienced Tampa Bicycle Accident Lawyer 
Once you establish duty of care, you need to investigate the accident to determine how both parties did or did not breach their duties of care and which party was more liable for the accident. In some cases, both parties may assume a portion of fault. In others, the courts may determine that one party is solely accountable. The goal is to assume as little liability as possible, so you can recover as much compensation as possible. Our Tampa bicycle accident lawyers at Barbas, Nuñez, Sanders, Butler & Hovsepian can help establish liability and fight on your behalf for fair compensation. Contact our firm today to get started.
https://www.barbaslaw.com/pursuing-a-claim-for-bicycle-accident-injuries-in-florida/