Cars Are Getting Safer. But That Isn't Helping Pedestrians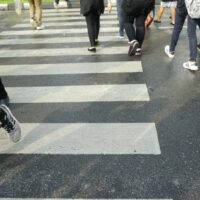 Although there is a lot of talk about car accidents, there can be n denying that cars are safer, and accidents are down historically, simply because of new technology in our vehicles. The technology keeps us in lanes, alerts us to blind spot problems, cameras give us more insight on the road around us, and a host of other features assist us and make our drive safer.
But that isn't necessarily the case for accidents that involve pedestrians. In fact, there has been an increase in these kinds of accidents.
Technology Isn't a Huge Help
Technology helps, but the technology that keeps us out of car accidents is not reliable to avoid pedestrians. For example, automatic braking systems that will detect a car in front of us and stop or slow our cars don't always do the same thing when it's a person, not a car that's in front of us. The same holds true for lane assist systems, which often can't keep us from sideswiping pedestrians or bicyclists.
And despite laws that will require crash-prevention technology to be standard on cars in the coming years, no such requirements will take effect for technology that lowers car-on-pedestrian accidents.
Deaths Up Despite Fewer Cars
Despite a pandemic, pedestrian deaths were up in 2020 by almost 5%. Taking into account how few of us drove for a large part of 2020, that equals about a 21% increase in pedestrian deaths per billion miles. That is an incredible increase for the span of one year.
The good news for Florida, is that its rate of pedestrian deaths actually declined in 2020.
About 75% of pedestrians who were killed were killed at night. Likewise, about 75% of deaths were not in an intersection—in other words, the deaths occurred in places that didn't have designated crosswalks or walking signals for pedestrians.
Distracted Drivers?
Some say the increase in pedestrian deaths in 2020 was caused by the drivers who were on the road, being more careless, and taking more risks. Wide open roads, and open highways during lockdowns, may cause drivers to drive faster, and pay less attention to the roads. Some, with little to do during pandemic lockdowns, may have been drinking, leading to an increase in alcohol-related car-on-pedestrian accidents.
SUVs May Be More Dangerous
Other studies look at the kinds of cars we're driving. Today, SUVs and trucks are popular, and there is increasing evidence that these vehicles cause more injury to pedestrians, and are more likely to lead to pedestrian deaths. Even at low speeds, between 20-40mph, about 30% of pedestrian accidents lead to a death, whereas only 22% of those accidents lead to deaths in accidents that did not involve SUVs.
Many people are now starting to realize that despite all the technological innovations in our cars, and despite those innovations lowering car accidents little has been done to lower the amount of, or severity of, pedestrians being hit by cars.
Have you been hit by a car while walking or on your bicycle? Pedestrian accidents can be serious. We can help. Call the Tampa personal injury attorneys at Barbas Nunez Sanders Butler & Hovsepian today. Schedule a consultation today.
Resource:
caranddriver.com/news/a36559973/pedestrian-safety-trucks-suvs/