Common Accidents On Construction Sites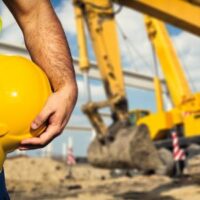 It's no secret that construction sites can be some of the most dangerous places to work and that construction accidents account for a large number of workplace accidents. These accidents can result in workers compensation claims, and third party injury claims.
But how do people get injured on construction sites, and what are the most common types of injuries?
Scaffold Injuries – Scaffolds are elevated, mobile platforms. Because they allow the worker to actually stand on the scaffold and place items there, the scaffolds need to be sturdy, set up correctly, on a proper base, and be free from debris and clutter. Sadly, they often are not.
What makes scaffolding injuries even more dangerous is the fact that something minor that happens on one scaffold—say, a dropped paint can—can reverberate, as scaffolding is often stacked on top of each other. That dropped paint can cause a worker beneath, to fall off of his or her scaffold.
Additionally, the public may walk back and forth underneath scaffolding—this is one area where people totally unassociated with the construction project or site can easily be injured if an object is dropped or  a scaffold collapses.
Falls – Whether on a scaffold, a roof, or any other area, falls can be deadly. Certainly, they are deadly when working on highrises, but even a fall from the elevation of a single story home's roof can have devastating consequences.
Because surfaces on a construction site can be unstable, dirty, or slick, it makes fall risks all the more dangerous and likely.
OSHA requires guardrails, toe boards and other safety equipment to prevent falls, but not every site utilizes these objects.
Ladders – In many cases, workers will use ladders that aren't appropriate for the work being done. The ladders may be overloaded (each ladder has a maximum weight capacity), or may be sitting on unstable bases, or floors that are not level, making the ladders unstable.
Cave-Ins – No, you don't have to be working on a tunnel to have a cave-in accident. Tunnels or openings in the ground are needed to install plumbing, underground parking, basements, or any other part of a building that goes underground. So even above ground projects will utilize underground construction areas.
Cave-Ins are especially dangerous, because the risk of suffocation or crushing injuries can happen quickly, but the rescues often cannot, as the site needs to be secured first, to avoid further cave-ins, before any rescues can start.
Lack of Protective Equipment – Construction sites are dangerous for our bodies. Workers are often exposed to chemicals, fumes, or just the dust and particulate matter that can get into the air. Our skin comes into contact with dangerous chemicals, and there is always a risk of burns.
Simple personal protective equipment, like bodysuits, goggles, gloves, or masks can avoid these kinds of injuries and accidents, but on many sites, the equipment doesn't fit, isn't used, or isn't maintained properly.
Were you injured while working on a construction site?  Contact the Tampa workers' compensation lawyers at Barbas Nunez Sanders Butler & today if you have been injured at work.
Sources:
esfi.org/workplace-injury-and-fatality-statistics
fox9.com/news/bodies-of-2-construction-workers-recovered-from-st-paul-trench-collapse
ehs.princeton.edu/workplace-construction/construction-safety/personal-protective-equipment-ppe