Cranes: Ground-breaking, but Dangerous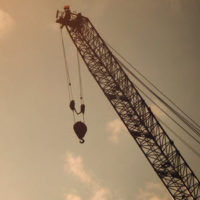 Cranes are incredible pieces of machinery that have revolutionized work in construction, logging, mining and materials handling. But in addition to the productivity and economic development they have enabled, cranes are also at the center of many accidents and deaths. If you or a loved one has suffered serious harm due to an unfortunate incident with a crane, an attorney who understands personal injury and/or workers' compensation can help you recover the damages you deserve.
Florida is not immune to accidents involving cranes. One 2016 incident occurred in Boyton Beach, when a crawler crane became engulfed in flames, ultimately dropping the lattice boom. Fortunately, the crane operator escaped the cab without injury, and bystanders were unharmed, as well. But this incident illustrates the potential for injury when heavy equipment such as cranes is in operation.
Cranes Related to Fatalities 
Crane-related deaths in the United States are all too common. One study looked at the causes of deaths involving cranes during the years of 1992-2006. In that period, over 600 fatalities were reported, spanning a variety of incidents:
Roughly one-quarter of deaths involved overhead power line electrocutions;
Over 20 percent of deaths were a result of being struck by crane loads;
Crane collapses caused nearly 15 percent of fatalities;
Being struck by crane booms/jibs resulted in 13 percent of fatalities;
10% of deaths were a result of falls.
Crane Types 
While mobile cranes were involved in the majority of accidents, topping out at over 70 percent of accidents, floating cranes were implicated in 24 percent of accidents, and tower cranes were associated with another 5 percent of incidents.
Industries Impacted by Crane Accidents 
Not surprisingly, construction laborers are the number one group impacted by crane accidents, with roughly 27 percent of fatalities occurring among this group. Heavy equipment operators are next, followed by supervisors, ironworkers, and mechanics.
OSHA Safety Tips 
Crane operators have been cautioned to follow several basic safety tips by the United States Department of Labor Occupational Safety & Health (OSHA):
Use common sense based on experience and training;
Do not operate a crane that is damaged;
Never try to lengthen or repair damaged wire rope;
Ensure that welding electrodes do not touch wire ropes;
Do not allow anyone to walk or perform any work beneath a suspended load;
Define the work area and determine it is free of overhead wires or hazards.

In the Event of an Accident 
If you are the victim of a crane accident, you can expect an investigation to determine precisely what happened. An interview will occur, equipment will be inspected, and a determination will be made as to the degree of human error involved in the incident. The worksite itself will be evaluated for safety, and any contributing factors will be weighed.
As someone whose health and welfare may have been compromised due to the accident, it is in your best interest to have experienced attorneys on your side participating in the investigation and weighing the evidence. You can get the support you need at Barbas, Nunez, Sanders, Butler & Hovsepian. Issues associated with personal injury and workers' compensation are our forte. Let us take a look at your case. The initial consultation is free and confidential.
Resources:
craneaccidents.com/2016/08/report/fire-causes-crane-boom-drop/
heavyliftnews.com/news/crane-accidents-analysis-and-preventive-measures