Do Businesses Need To Have Defibrillators Installed?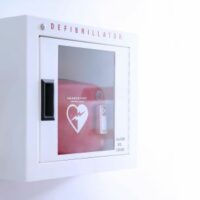 When someone has a cardiac event, there is the perception that it's nature taking its course. There is nothing that anyone (outside of a doctor or hospital) can do when someone dies, or suffers an injury from a cardiac event.
But that is not exactly the case, because of the existence of automated external defibrillators, often called AEDs.
What is an AED?
AEDs are unique because they are designed for everyday people to be able to use them. Many of these devices even "speak" out instructions to people. They are generally lightweight, and easy for people to use. They contain the electrical paddles, and the capacity to deliver the electric charge needed to restart someone's heart in the event of an emergency.
Best of all, they are relatively inexpensive, at least for most businesses—they can range between $600-$2000, depending on the features offered.
Who Has to Have an AED?
Logic would tell you every business should have one or more of these devices, in order to immediately attend to people who may be in need. Unfortunately however, the law doesn't follow logic, because the law doesn't require these devices in as many places as you would think that it should.
All AED owners have to make sure their AEDs are in working order, and in compliance with governmental regulations. Unfortunately many businesses simply buy AEDs and do little after that, leaving their AEDs in non-workable condition. If employees of the business will or could be using the AEDs, they must receive certain training as required by the state.
Schools must have AEDs and employees and any volunteers must be trained in their usage. They are also required in nursing homes, dental offices, and state parks.
Remember that just because the law may say that a business doesn't have to have a defibrillator, doesn't mean that a business is not liable if it doesn't have one. In other words, it may be so foreseeable that a certain premises should have a defibrillator, that a business can be negligent for the failure to have one, even though a specific statute doesn't require one.
Protection From Liability
If you try to use an AED on someone, and you do not use it correctly, you cannot be sued. This is called a Good Samaritan law. So long as there is an emergency and the victim does not object, even non-medical civilians can use AEDs, so long as they are using them in good faith.
Additionally, so long as any business that has an AED is in compliance with regulations related to the AED, the business cannot be sued if using the AED injures someone.
This immunity does not apply to actual healthcare professionals, who are charged with the knowledge or how to use the devices in a safe manner.
Did a business fail to keep you safe, or fail to use safety measures that caused you injury? Call the Tampa personal injury attorneys at Barbas Nunez Sanders Butler & Hovsepian today. Schedule a consultation today.