Do Your Duty: Know the Risks of Working in a Warehouse and How to Avoid Them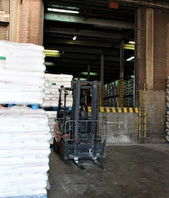 Tampa is a major shipping destination, and as such, it is home to dozens of warehouses, docks, and power plants in which there is heavy machinery, conveyor belts, sharp tools, and dangerous materials. That said, while Tampa's business environments are more dangerous than those of less industrial locations, that does not mean that workers are always getting injured. It is also not to say that dock workers and warehouse hands are more prone to injury than those who work in an office at a desk all day. Work injuries can happen in any environment, to any type of worker, if proper precautions are not taken. Though workers' compensation is a no-fault program, the level of care one took while at work can reflect either really well, or very poorly, on him or her during the claims process. If you work in a warehouse, it is crucial that you know your risks and what you can do to avoid them.
Common Warehouse Hazards 
According to the Bureau of Labor Statistics, the rate of workplace illness and injury in warehouse settings is five out of 100. Though not the highest, it is still somewhat of a concern, especially considering the dangerous nature of the equipment around which warehouse employees work. Below is a list of the most common hazards in a warehouse workplace.
Docks 
As a major port, it goes without saying that Tampa has docks. While many warehouse workers grew up around those docks, they still pose a great threat. Improper deployment of a dock ramp can result in a worker falling off the platform. A wayward forklift can result in a tragic accident involving both the operator and the machinery. A truck driver who approaches a dock ramp recklessly may run the truck off the platform entirely.
Fork Lifts 
You will find a forklift in just about every warehouse facility across the nation. For this reason, warehouse workers are extensively trained in the operations of forklifts—but that does not necessarily mean that said equipment is safe. If an operator goes too fast, or if he or she miscalculates a turn, the forklift could tip. To prevent costly and catastrophic accidents, regulations dictate that drivers must be at least 18 years old and that they are certified. Safety rules also mandate that equipment be thoroughly checked before each use.
Conveyor Systems 
Any good business owner knows that the most cost-effective way to move goods through a facility is via a conveyor system. However, though conveyor systems save money on production, they are the cause of many a warehouse injury. It is not unheard of for workers' clothes, or worse, a limb, to get caught up in the belts, or for products to fall off a moving belt. Employers are required to provide new hires and veteran workers with the appropriate training to prevent such accidents. However, workers have a duty to act with care and to adhere to the safety policies that are in place.
Material Handling 
Heavy containers should always be stored at lower levels, and the lighter-weight materials on the higher shelves. If workers reverse that order, they risk a heavy container falling on either themselves and/or their coworkers. Again, workers should be trained on how to stack containers, but once trained, they have a duty to themselves and others to adhere to company policies.
Of course, it is impossible to think that every injury and accident can be prevented. However, if every employee follows safety procedures and guidelines, the industry can minimize accidents and therefore streamline the workers' compensation process when injuries do occur.
Retain the Help of a Tampa Workers' Compensation Lawyer
Though workers' compensation is a no-fault program, and though injured workers are entitled to medical care and financial compensation for their recovery, lack of knowledge of how the program operates can put a person at risk of having his or her claim denied. At Barbas, Nuñez, Sanders, Butler & Hovsepian, our team is familiar with the rules regarding workers' compensation and can help you comply with the often-confusing claim requirements when you are injured. That said, you can greatly prove the integrity of your claim if you can prove that adhered to all safety requirements but were injured regardless. Contact our Tampa workers' compensation law firm today to learn more.
Resource:
bls.gov/iag/tgs/iag493.htm