Insurance Issues In Rideshare Accident Cases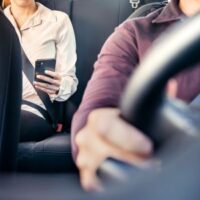 In a standard car accident, insurance issues can be confusing for the average person. Some policies cover some things, some don't, sometimes you use your own insurance, sometimes you don't. But things get even more confusing when you are in a rideshare accident.
Rideshare Accident Cases Can be Complex
Rideshare companies like Uber and Lyft present their own share of complexities, when you are involved in an accident.
First, there are now more parties to the lawsuit—you (as the passenger), the rideshare driver, if he or she is at fault, and whomever is outside the car, in another vehicle, who also may have some fault or liability for the accident.
Each of those parties has their own insurance, coverages and adjusters. And if you think that was it, there's more: The rideshare driver may have different insurance than the actual rideshare company.
Uber and Lyft and others like them, have long maintained that they cannot be sued for accidents involving their drivers, because their drivers are independent contractors, and thus, the companies they are working for cannot be liable for an accident.
Increased Insurance – But How Much?
While that theory is often challenged, and while some state laws have tried to make rideshare companies more liable for the accidents caused by their drivers, one thing the rideshare companies do which is helpful to victims, is require that their drivers have a minimum amount of liability coverage.
The insurance coverage available to you, largely depends on what the driver is doing at the time of the accident. If the driver is not "on the clock," or actually transporting a passenger (or logged into the company app that drivers log into when they are actively driving for the companies), the Uber or Lyft insurance policies likely won't apply and you will be left with whatever personal insurance the driver has, just as you would if the driver had nothing to do with Uber or Lyft.
On the Clock or On the Job
If you are injured inside a rideshare vehicle, the driver is most likely actually working for the rideshare company, so the increased insurance would apply.
Uber or Lyft provide up to $1 million in insurance coverage, should you be injured by a rideshare, and should the accident be the fault of the rideshare driver.  Note that this coverage applies, whether you are a passenger inside the rideshare, or whether you are another driver, or even a pedestrian, in an accident caused by the rideshare that is actively transporting a passenger or on the way to pick up a scheduled passenger.
In some cases, the accident may not be caused by the rideshare driver at all. Another vehicle may cause the accident. When that happens the Uber or Lyft insurance limits are a bit less, usually $250,000.
If you are injured by a rideshare or while in one, you have a number of legal options. Contact the Tampa personal injury lawyers at Barbas, Nunez, Sanders, Butler & Hovsepian and schedule a consultation today for help.
Sources:
nerdwallet.com/article/insurance/rideshare-insurance
progressive.com/auto/insurance-coverages/rideshare/