Lacerations Can be Serious Workplace Injuries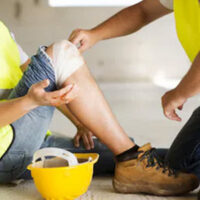 When we think of injuries in the workplace, we often think about injuries to bones, or limbs. If someone mentioned a laceration, you may automatically equate laceration with a minor injury, that could not be expected to keep you out of work for very long. But a laceration is not "just a cut," and can be a very serious injury that can keep someone off the job for an extended period of time.
Types of Lacerations
Lacerations actually are categorized, depending on their type or severity. In fact, many kinds of lacerations don't even come from being impaled or hurt by another object.
For example, in some cases skin may tear because it is stretched, causing a laceration. This kind of injury happens more in the workplace than it does at home. Try to imagine a heavy object landing on someone's arm, and as the object falls away, it pulls the skin, tearing it.
Degloving injuries, also sometimes called avulsions, also are common in the workplace. This is where the skin is peeled off of a limb or appendage, usually when the limb or appendage is caught in or under something heavy.
Nerve Damage and Scarring
These are all very serious injuries, that can cause long term damage, and even in some cases, nerve damage. Although we tend to think of scarring as aesthetic, deeper wounds can also cut off nerves to the affected area. The nerve damage that comes with serious lacerations can lead to problems performing someone's job, if the ability to touch is necessary (imagine a secretary that is unable to feel on the fingertips, and thus unable to type or manage paperwork).
Scarring can affect the ability to feel, aside from the physical appearance issues, because a wound deep enough to scar, has likely also affected the nerves. Scarring on exposed body parts can be significant and require multiple plastic surgeries to repair the damage to appearance. Those surgeries can be enough to keep someone out of work for an extended period of time.
Open Wounds
Even if larger lacerations wouldn't affect a worker's ability to do his or her job, the healing process might. With larger wounds, the wound must remain open for proper healing, and in some cases, the wound may have to be packed (sometimes, the packing must be changed by an in-home medical professional). It may not be possible for workers to go back to a job site, with an open, packed wound.
Going back to the workplace with open wounds can lead to infection—because the wound is open, the infection has an open path into the body. Serious infection can lead to a loss of a limb, if it doesn't result in death.
Don't assume that an injury at work is not serious. If you need workers' compensation and are having problems getting it, call the Tampa workers' compensation attorneys at Barbas, Nuñez, Sanders, Butler & Hovsepian. Schedule a consultation today.
Resource:
safetyandhealthmagazine.com/articles/preventing-cuts-and-lacerations