Liability for Teenage Drivers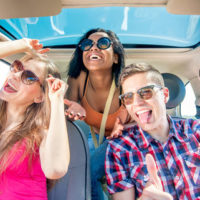 According to the Florida Department of Highway Safety and Motor Vehicles, there were 16,127 accidents involving teen drivers between the ages of 15 and 17 in Florida in 2016. 3,544 teen drivers were injured and 27 were killed. All these numbers are up from previous years. These numbers do not account for the number of teenage driver crash victims or property damage, but those numbers do exist.
Unfortunately, teen drivers are amongst the most reckless group of drivers. We say "unfortunately" because they are also the most inexperienced. Teen drivers tend to speed, weave in and out of traffic, follow too closely, drive at night, and perform a number of other dangerous driving maneuvers that often result in accidents and injuries. If you or a loved one was injured by a negligent teen driver, call the Tampa car accident lawyers at Barbas, Nuñez, Sanders, Butler & Hovsepian to discuss your rights to compensation today.
Who is Liable in Teen Driver Accidents?
If you were injured by a teen driver, you may be wondering who is at fault—the driver or the parent. According to Florida's dangerous instrumentality doctrine, which was adopted in 1920, the owner of a vehicle or other dangerous instrument is liable for damages caused by the negligence of permissive users. What this means for parents of teen drivers is that they are liable for the actions of their teen drivers whether they were in the vehicle with their teens at the time of a car accident or not.
The precedent was sent in the 1920 case of Southern Cotton Oil Co. V. Anderson, when the Supreme Court declared that "[O]ne who authorizes and permits an instrumentality that is peculiarly dangerous in its operation to be used by another on the public highway, is liable in damages for injuries to third persons caused by the negligent operation of such instrumentality…" The rationale behind this doctrine is that a motor vehicle is a potentially dangerous piece of machinery, and the reason for including vehicles under this doctrine is to prevent vehicle owners from lending their cars to just anyone.
Recovering Damages Under the Dangerous Instrumentality Doctrine 
If you pursue damages under the dangerous instrumentality doctrine, you are limited to the amount of damages you may collect. According to Fla. Stat. § 324.021(9)(b)(3), the damages in a teenaged driving crash are limited to $100,000 per person and up to $300,000 total per incident. However, if the teen driver is uninsured or has an insurance policy with limits of less than $500,000, the victim may pursue up to an additional $500,000, less the amount of damages actually recovered from the permissive user.
Joint Liability on Teen Drivers 
The dangerous instrumentality doctrine is not the only Florida law under which victims of teen driving accidents can collect damages. According to Florida Fla. Stat. § 322.09(2), every minor is required to have a parent or guardian sign a waiver that states that he or she will assume liability if the minor drives in a reckless fashion and causes a car accident in order to obtain a learner's permit or driver's license. Unlike a claim brought under the dangerous instrumentality doctrine, however, there is no cap to the amount of damages a victim may pursue under this law. Additionally, it is important to note that liability under this statute is separate and apart from the dangerous instrumentality doctrine, and a victim may pursue damages solely against the adult signor despite whose vehicle the teen was driving at the time of the accident.
Contact a Tampa Car Accident Attorney 
If you or a loved one was injured by a reckless teen driver in Tampa, you do have options for recovering compensation. Call the Tampa car accident lawyers at Barbas, Nuñez, Sanders, Butler & Hovsepian to discuss your case and your rights today.
Resources:
flhsmv.gov/pdf/crashreports/crash_facts_2016.pdf
casetext.com/case/so-cotton-oil-co-v-anderson