Mental Health and Workers' Compensation Claims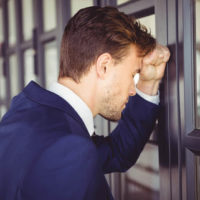 Are you stressed out at the office? Are your worries about the job keeping you up at night? If your mental or nervous injuries are a manifestation of another injury that occurred at work, it may actually be possible to receive workers' compensation to help with associated costs. However, in 2016 there are very strict guidelines directing when benefits for mental injuries are available. To get the best results for your particular situation, it is a great idea to consult with a good workers' compensation lawyer.
Limitations on Workers' Compensation for Mental Health
The short answer is no, workers' compensation will not bail you out simply because you are feeling stressed out about deadlines or your mean boss's attitude. In fact, if your mental health issues are related to stress, fright or excitement on the job, workers' compensation will not kick in at all.
Even serious mental health situations, like a firefighter suffering from anxiety after a dangerous rescue attempt, will not qualify for this benefit. On the other hand, if that firefighter experienced physical trauma, which then caused mental trauma, there would be a legitimate claim for workers' compensation. To be clear, the mental trauma must be directly linked to the physical injury, not to the traumatizing event.
Contrary Precedent…
However, case law suggests that if an event leads to both physical and mental trauma simultaneously, both physical and mental issues may be compensable. A case in point is McIntosh v. CVS Pharmacy. Here, the claimant suffered a knee injury during a pharmacy robbery. Following treatment for the knee, she was denied compensation for PTSD. The JCC's denial was based on the reasoning that the PTSD was a result of an employment-related accident rather than a manifestation of a compensable physical accident. On appeal, the DCA reversed the JCC.
Which Came First, the Chicken or the Egg?
What if both physical and mental conditions are present, but they occurred in the opposite order? Let's say an employee is experiencing severe mental duress as a result of workplace stress, which results in ulcers. Would psychiatric care now be covered under workers' compensation?
The short answer is "No." Plainly, the statute states that "physical injury resulting from mental or nervous injuries, unaccompanied by physical trauma requiring medical treatment shall not be compensable under this chapter." In a nutshell, the physical injury must come first, followed by mental impairment that can be attributed by more than half to the precipitating physical problem.
Florida statute requires that the payment of benefits may occur if a licensed psychiatrist deems that the nervous or mental condition is secondary to the compensable physical injury, which is at least 50 percent responsible for the mental condition.  In these circumstances, temporary payments may not exceed six months after the date of maximum medical improvement (MMI).
If you are suffering mental trauma related to your work and have been denied workers' compensation benefits, let the experienced workers' compensation team at Barbas, Nuñez, Sanders, Butler & Hovsepian take a look at your case. Our knowledgeable lawyers will fight for a settlement that benefits you. Schedule your free, confidential consultation today.
Resources:
leg.state.fl.us/statutes/index.cfm?App_mode=Display_Statute&URL=0400-0499/0440/Sections/0440.093.html
c.ymcdn.com/sites/wccp.site-ym.com/resource/resmgr/2014_Case_Law_Updates/04-25-14-_Hurley_Rogner_Case.pdf