Small Holes In The Ground Can Do Big Damage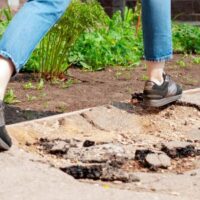 When people fall, it's natural to think that they fall on or over something. But what about in something? That often gets less attention but it does happen—people do fall into holes in the ground.
We're not necessarily talking about a giant hole that someone falls deep down into, or a sinkhole, although both of those can be serious damages as well. Specifically, we're talking about much smaller holes, which are hidden, harder to see, but potentially, catastrophically dangerous.
How do Holes in the Ground Happen?
These kinds of holes tend to happen very often.
For example, imagine that a gardener takes out a small shrub. There is a small hole left in the ground, where the roots of the shrub once were.
Someone may dig a hole to get to pipes or underground plumbing, or to work with underground wiring.
Holes are often dug as part of the construction of a shed or a fence, the holes being there to anchor the structure at some point in the future.
They may even be there for no real purpose at all—for example, as a result of erosion, or kids simply digging the hole, and walking away.
Serious Injury
Whatever the cause, don't be fooled—small holes can lead to big danger.
The danger is that when you step normally, you don't even realize it, but your brain tells your musculature to subconsciously brace for the impact of your downward step. In short, your body is "ready" for the impact of each step, so just stepping forward doesn't cause you any harm.
But when the ground isn't where your brain or body anticipates it being—for example, if it is a foot lower, like when you step into a hole—your body isn't ready for that impact. It expects the ground to be where it normally is. As a result, the full weight of your body is coming down, completely unexpectedly, on ankles, knees, tendons, ligaments, the bones of your leg and foot, and even your back.
The sudden, unexpected, and unfamiliar impact location can wreak havoc on those parts of your body, as your body isn't working in tandem to absorb the impact as it normally does.
Double Damages
Holes in the ground are actually so dangerous, that Florida law is very unique when it comes to holes: unlike any other area of personal injury law, if you are injured by a hole in the ground, the responsible (negligent) party will be liable to you for two times your total damages.
To be liable for these double damages, the hole that you fell in must have been left by the property owner without warning—that is, the hole must be separated by a barrier (not just a written warning), otherwise, the property owner is liable for the double damages. The hole must be more than 2 feet deep or 2 feet long.
Holes are dangerous, and the law recognizes it. Were you injured by stepping or falling into or onto a hole in the ground? Contact the Tampa personal injury lawyers at Barbas, Nunez, Sanders, Butler & Hovsepian and schedule a consultation today.
Sources:
leg.state.fl.us/statutes/index.cfm?App_mode=Display_Statute&Search_String=&URL=0700-0799/0768/Sections/0768.10.html
flsenate.gov/Laws/Statutes/2011/768.11