Teen Driving Perils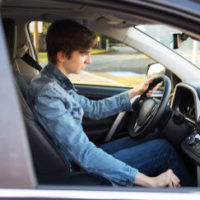 If you have a teen who has just acquired a driver's license, chances are you are experiencing a bit of anxiety. There is good reason for apprehension as you turn over the car keys to a new driver: statistics relate some alarming facts about driving behavior and accident rates. If your teen is involved in a collision resulting in serious injuries, a good personal injury lawyer can help.
Why Teen Drivers are at Risk 
Teen drivers are at greater risk of automobile accidents than other age groups for several reasons:
Inexperience;
Distractions from passengers;
Texting and driving;
Drinking and driving.
Facts about Teen Drivers 
These risk factors lead to some disconcerting facts about teen drivers:
20 percent of teen drivers experience an auto accident within the first year of driving;
Roughly 1/3 of teen deaths in 2010 were a result of motor vehicle collisions;
The highest crash rates for all drivers are for 16-year olds;
Over half of teens report talking on their cell phones while behind the wheel;
A driver's reaction time is similar to that of a 70-year old when talking on a cell phone;
The number of passengers in the car correlates with death rates of teens;
Just over four in ten teens admit that if someone were driving recklessly they would say something;
Teens whose parents are highly involved in their lives wear seatbelts at double the rate of teens whose parents are less involved;
Nearly half of teen driving deaths occur after 9 p.m. and before 6 a.m.;
Teen crash rates increase incrementally in relation to the number of miles per hour over the speed limit they are traveling.
Driving Defensively 
Naturally, because teens have less experience behind the wheel they are less likely to anticipate problem situations and react calmly and safely. For them, defensive driving is more important than ever:
Concentrate on the road: Avoid daydreaming, planning activities, or memorizing vocabulary lists for class. Instead, focus on road conditions, traffic patterns, road signs and obeying traffic laws.
Be courteous: Follow a safe distance behind other vehicles, use signals to change lanes, and avoid rushing through yellow lights. After dark, don't use your lights on high beam when other traffic is in eyeshot.
Stay alert: Drivers must not be impaired or tired when operating a motor vehicle. It's important to be prepared in the event the car ahead slams the breaks, an animal darts into the road, or a light changes.
Watch out for other drivers: Sometimes passing vehicles don't provide as much space as they should; other times motorcycles seem to appear from nowhere; even bicyclists who are sharing the road can be unpredictable. Be prepared to anticipate and react calmly.
After an Accident 
Any serious accident is stressful; when the collision involves your child the levels of anxiety increase exponentially. While you deal with the emotional upheaval of injuries, let the experienced team at Barbas, Nunez, Sanders, Butler & Hovsepian deal with the legal issues. Put your trust in us: we will fight for your best interests. Contact us in Tampa and St. Petersburg today for a free, confidential consultation.
Resource:
dosomething.org/us/facts/11-facts-about-teen-driving