Who is Liable When You are Injured in an Airport?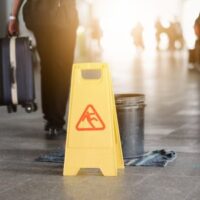 Airports can be dangerous places to be. If you really think about it, an airport is the perfect mix of things that could cause injuries to people.
In an airport you have people unfamiliar with the layout of the airport. These people are often carrying luggage, bags, or young children (or all of these), making them clumsy and not very mobile. They are distracted, looking at advertisements and arrival/departure screens. They may be in a rush to get to their terminal, or to make a flight.
In the meantime, the airport terminals are filled with people who drop debris, or who eat and thus spill things in walkways.
Who is Liable?
When someone is injured in an airport terminal, a number of parties may be responsible, because a number of parties have control over, or ownership of, an airport terminal.
On the one hand, the airport is a government building, operated by the city or county government. And while you can sue the government for injuries on government property, you may be limited by sovereign immunity, which limits the amount that an injured person can recover to $200,000 per person or $300,000 per occurrence.
But the inquiry is not so simple because as you have probably noticed, a number of private businesses operate out of an airport as well. Many may be national chains. The ubiquitous "Hudson News" is a privately owned company, with stores in almost every major airport.
When you are injured on the property of the space that is leased by a private company, you may have the ability to sue the private company. In many cases, the private company will argue that it too should get the protection of sovereign immunity (and thus the maximum damage cap), just as the government does.
Sometimes, an area is not owned by a private company, but just branded. For example, there may be a "Chase Bank Lounge Area," which may be leased space by Chase Bank, but may also just be government property which Chase has paid to have its name on the area.
That means that contracts between private companies and the county or city need to be examined, to see whether the liable party is a government entity or not.
Runways or Walkways to the Planes
Note that all of this is for the airport itself. If you are injured getting on and off a plane, in most cases, the law makes the airline responsible. This can happen if the walkway is dirty, there are objects in the walkway, or the walkway is not completely aligned with the floor of the airport or the plane.
Contact the Tampa personal injury lawyers at Barbas, Nunez, Sanders, Butler & Hovsepian and schedule a consultation today for help if you have been injured in any part of an airport.
Sources:
flightsafety.org/toolkits-resources/past-safety-initiatives/ground-accident-prevention-gap/
room1903.com/how-hudson-news-took-over-airports-347