Why Truthful Answers on Medical Questionnaires Matter in Workers' Compensation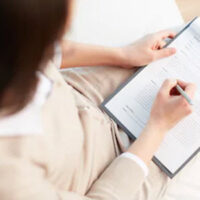 Let's say that you are applying for a new job. Like many jobs, this job requires that you fill out a mound of forms. The list of forms is almost never ending to the point that you start to zone out and get a little numb. You zone out so much that when it comes to filling out questions about your prior medical history, you forget about a prior accident, injury or illness.
Medical Questions at Work
Your new employer is allowed to ask you basic medical questions about your medical history, especially where the employer must evaluate your physical ability to do your job. But those questions don't just have an impact on whether you get hired, or how you do your job. Making a mistake on these forms—that is, omitting or misrepresenting something in your medical history—can end up voiding your workers' compensation coverage.
If it turns out that you misrepresented something in your medical history, or omitted something, and you are later injured on the job and make a workers' compensation claim, your employer can argue that you are barred from getting benefits.
What the Employer Must Show
To show that you are ineligible for workers' compensation benefits, the employer must show:
That you knew that the statement you made, or the misrepresentation or omission on any forms you filled out was false
That you would not have been hired by the employer had you been fully candid in your job application and
There is some connection between the medical information that you did not disclose (or did not fully disclose) and the injury for which you are seeking workers' compensation benefits.
Employers Have the Upper Hand
As you can see from the first element, your employer must show that you knowingly made the error. This makes it easy for the worker to argue that forgetting or misrepresenting something in his or her medical history was "just an accident."
However, courts will be very tough on employees. It is very hard to believe that someone who suffers a major injury, or has a serious disease, just "forgets" to list it on a questionnaire. Unfortunately, many judges will take the position that the worker set out to purposefully deceive the employer.
It is also not difficult for the employer to show some connection between the injury sustained at work, and the injury or ailments that were omitted or misrepresented by the employee. This is because the employee's workers' compensation doctors is a doctor chosen by the workers' compensation insurer. The doctor therefore will be more inclined to give opinions that help the insurance company.
What if You Don't Remember?
It is OK on initial employment questionnaires or forms to say you don't remember, you aren't certain, or even to leave lines blank. That is better than making an affirmative statement that ends up later to be false, incomplete or inaccurate.
If you're injured at work, be ready for any problems caused by workers' compensation carriers denying you the coverage you need to get better. The Tampa workers' compensation attorneys at Barbas, Nuñez, Sanders, Butler & Hovsepian can help you. Call us today to discuss obtaining damages after any accident at work. Schedule a consultation today.
Resource:
martindale.com/labor-employment-law/article_McConnaughhay-Coonrod-Pope-Weaver-Stern_2220404.htm
https://www.barbaslaw.com/can-your-workers-compensation-settlement-be-used-to-pay-back-owed-child-support/