Boating Accidents: Stay Safe In The Water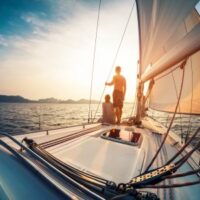 What Causes Accidents?
Boating accidents can be caused by a number of factors. Many studies have things like lack of attention, operator inexperience, or unlawful speed, as being leading causes of boating injuries and deaths. A boat doesn't have to sink, and you don't have to be thrown from a boat to be injured. Many studies indicate that most people injured in boating accidents are injured when they are on the boat-not thrown off of it.
No License Needed
Despite the dangers, you may be surprised to learn that there is no such thing as a license to boat or operate a watercraft, the way that there is to operate a motor vehicle. Boaters will only need to take a course on boating before getting into the water, and that's only if the boater was born after 1987. The course requirement only applies to using boats on open, public waters—for someone to operate a boat on a private lake or private waterway, no course is needed at all.
Common Sense Safety
Clearly the best rule for boating safety is to make sure whoever is operating the boat, is qualified to do so. Boats don't steer, accelerate, or operate the way cars do. Using a boat can be a foreign experience for people.
For example, as speed decreases, the ability to make quick maneuvers or to control the boat, also decreases. That means that for the most control, the boat should be going faster—but the faster the boat goes, the less time there is to react, and the high likelihood there is that any accident will be more serious.
Additionally, current and wind direction can affect steering and maneuverability—factors that aren't present when driving a car.
Having life vests on your vessel is a requirement for all passengers. But vests aren't the only safety precaution that should be used. Remote shutoff switches, to cut off engines in the event someone goes overboard, should also be used.
Clearly, anytime someone is in the water near the boat, the engine should be off. If the boat needs to get someone out of the water, the boat should never reverse—rather, it should go forward, creating some distance, and then turn around, so that the engine or propellers are not near anybody in the water.
If you are injured in a boating accident, you have the same right to sue as you would in a car. Boaters can be held negligent, and are responsible for compensating victims of boating accidents.
Were you injured on the water, or in a boating accident? Schedule a consultation today with the Tampa personal injury lawyers at Barbas, Nunez, Sanders, Butler & Hovsepian.
Resource:
myfwc.com/boating/safety-education/accidents/