COVID-19 Workers' Compensation Claims are Being Denied at an Alarming Rate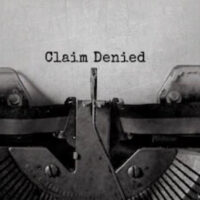 We expect workers' compensation insurers to deny claims. That's how insurance companies save money, by denying claims, and forcing injured workers to file claims and lawsuits in order to get their workers' compensation insurance. But insurers are stooping to a new low, in denying claims being made by workers on the frontline of the COVID-19 pandemic, and workers who are most exposed to the virus.
Denials for Essential Workers are On the Rise
Statistics show that an increasing number of private workers' compensation insurers have been denying claims in 2020. Private insurers are those that largely provide workers' compensation insurance and coverage to smaller businesses; larger businesses are often self-insured, and government agencies are usually insured by public or governmental insurers.
The Florida Division of Workers' Compensation (DWC) reports that it has received 11,872 indemnity claims in 2020, as of July 20, 2020. Of that number, about 6,000 claims were made from May to July 2020. To provide some perspective of how much claims have increased during the pandemic, only 35 claims were filed in February and 13 in January of 2020.
Insurers are reacting and holding on to the purse strings. The DWC reports that about 43% of all claims were denied, with over 60% of the denials coming from private insurers.
What makes these statistics even more upsetting is who is being denied. Emergency workers and first responders, including health care workers, made up 65% of all claims. In addition to that 65%, are an additional 2,897 claims by essential workers, who could be grocery store employees, or other employees of those businesses that our economy needs and depends upon.
These numbers could be even worse than what they show. That's because the statistics reflect only claims where workers are both injured, and eligible to collect lost wages (sometimes called indemnity). The numbers do not reflect claims that only involve payment of medical expenses.
South Florida Leads Denials
The bottom line is that the workers that we need the most, and who are the most exposed, are the ones being denied workers' compensation benefits. Those denials are peaking in Miami-Dade, which leads the state in the number of workers' compensation claims related to the COVID-19 virus. Miami Dade alone had 34% of the statewide claims.
As schools in South Florida get ready to go back to in person learning, the workers' compensation claims promise to increase. Yet, it is uncertain those claims will be honored, given that a high school athletic director's COVID-19 claim was recently denied, after the administrator was in contact with a student who tested positive for the virus.
The Tampa workers' compensation attorneys at Barbas, Nuñez, Sanders, Butler & Hovsepian can help you no matter what kind of problem you are having because of an injury on the job. Call us today to discuss obtaining workers' compensation after any accident at work. Schedule a consultation today.
Resource:
thecentersquare.com/florida/insurers-denying-workers-compensation-claims-a-troubling-trend-for-florida-employers/article_700ef75c-ec5e-11ea-8c41-1309fcc760bf.html
https://www.barbaslaw.com/can-you-get-workers-compensation-for-injuries-because-of-workplace-violence/