Proposed Law Intended to Stop Delivery Tragedies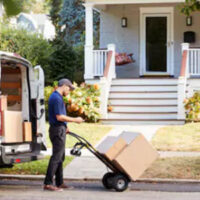 It was just a few months ago that an elderly woman was brutality and ultimately fatally beaten in her home before being set on fire by workers delivering equipment for and on behalf of retailer Best Buy. The crime shocked the nation, and brought to people's attention how careless businesses can be when reviewing the background of the people they are putting into customers' homes to deliver and install equipment. A new law is being proposed to try to make sure that such a tragedy does not happen again.
The Problem with Deliveries
The problem today is that if someone is injured (whether accidentally, or because of a criminal act) by a deliveryperson, the retail company (the company the product was purchased from) will often try to distance themselves from the company that is delivering or installing the product.
The retailer may say that the victim has to sue the installation/delivery company, or that the retailer has no control or authority over the installer/delivery company, and thus, cannot be sued.
These defenses often are not effective, and retailers can be sued for the acts of companies that deliver and install their products, but just allowing companies to make the argument adds time and difficulty to an injury lawsuit.
Proposed New Law
The new law would require delivery companies to tell retailers if the delivery company employs workers that are arrested, or who have been convicted for a variety of offenses, including violent and sexual felonies.
The law also would require companies to tell consumers if the company relies on or uses a third party delivery/installation company, letting consumers know whether the people coming into their homes are actually employees of the company, or employees of a separate, delivery company. Many retailers don't like disclosing who makes their deliveries, or the reputability of the companies that they use.
However, this information is important because many consumers purposely buy from large companies, trusting that they use and screen their own employees. Many consumers are surprised to learn that smaller, less reputable companies are hiring the driver and installation workers that come into consumers' homes.
Retailers will also be responsible for making sure that delivery company employees have been screened for criminal pasts. The law would not apply to delivery companies like federal express, or UPS.
Not a Perfect Solution
The law is not foolproof—after all, it does not restrict companies from using outside delivery companies. The law also does not say whether there will be civil liability for companies that fail to comply with the law, although in the absence of any language barring lawsuits, someone who is injured when a company violates the proposed law would be able to sue for injuries.
The law has not passed yet, but even just the debate is a reminder to be careful who you let in your home, and that even criminal activities can often lead to personal injury liability.
The Tampa personal injury attorneys at Barbas, Nuñez, Sanders, Butler & Hovsepian can help you if you are injured in an accident. Call us today to discuss obtaining damages for your injuries. Schedule a consultation today.
Resource:
sun-sentinel.com/news/fl-ne-protection-delivery-man-murderer-20190824-23nejuwogrft3dhge3iuehzggq-story.html
https://www.barbaslaw.com/are-hold-harmless-agreements-enforceable/