Trampoline Park Safety Comes Into Question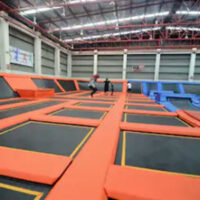 Nowadays, anything that is called an "extreme sport" is super popular. These activities have become so popular they have moved indoors, into large retail centers where adults and kids can get exercise and play. One popular activity is the trampoline park. However, these popular businesses have some hidden dangers that consumers should be aware of.
Trampoline Park Injuries
A trampoline park is an indoor playground that is filled with large trampolines. Large open floors are all trampolines, walls may be lined with bouncy trampolines, and the area may also be filled with basketball hoops, rock climbing walls, "monkey bars" or other playground-type equipment, all meant to be supercharged with the fun of the trampolines.
However, recent reports reveal that these parks have some serious safety flaws. This summer, a 12-year old boy died at a trampoline park. The boy had fallen from a harness that was improperly clipped. There are stories of children landing on their neck and shoulders, improperly trained supervisory staff, and reports of people breaking their femur bone, a bone that takes about 900 pounds of force to break.
Dangers in the Parks
The problem and main danger in many of these parks is that the entire floor area is one giant trampoline. That causes a number of hazards. The first is that as the flooring is constantly bobbing up and down, it is unstable for others. Imagine taking a step but never knowing when your foot will hit the ground, or what level the ground will be at.
The second problem is the transfer of energy in the flooring from when a bigger person steps on it, into a smaller person as the trampoline floor goes down and then rebounds upward. By one report, a 200 pound man can cause a trampoline floor to bounce back up with 400 pounds of force, about the equivalent of being hit by a hammer.
Someone landing on a trampoline can be seriously injured if they land on the trampoline floor while the floor is being pushed downward. There may be little or no padding underneath the trampoline flooring. If two people land on a trampoline floor at the same time, their combined force can push the trampoline floor downward so much that they land on hard flooring, or the wiring cables underneath the trampoline floor.
The nature of these parks also makes them dangerous. Attending staff may have little or no training at all, or may not even be responsive to injuries, or people on the trampoline who are in trouble. There is currently no federal regulation of these parks, setting safety standards, safety inspections, or requiring that equipment be in a safe condition.
Waivers and Hold Harmless Agreements
Making matters worse, many of these trampoline parks will require customers to sign waivers or hold harmless clauses. Many people don't even read what they are signing. Although wording in these clauses must be very specific to be legally enforceable, it is still a defense that many trampoline parks rely upon when they are sued.
The Tampa personal injury attorneys at Barbas, Nuñez, Sanders, Butler & Hovsepian can help you if you were injured on someone else's property or in a business. If you have suffered an injury, talk to us about the facts of your case. Schedule a consultation today.
Resource:
wsoctv.com/news/local/trampoline-park-says-user-error-caused-12-year-old-s-death-will-remove-attraction/962042169
https://www.barbaslaw.com/expert-testimony-isnt-always-admissible/