Volunteering? You May Be Entitled to Workers' Compensation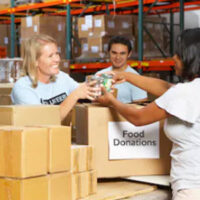 In almost every case, and in almost every full time job, employers must provide workers' compensation to employees. But what about volunteers? Many volunteers work as hard or harder than paid employees, and many do so in conditions that may be dangerous. Yet by definition, volunteers are not paid. Does that mean that they don't have to be provided workers' compensation insurance?
Volunteers Can Get Workers' Compensation in Some Circumstances
Volunteers are in fact excluded from Florida's workers' compensation statutes, although there are some exceptions that workers and employers should be aware of.
Florida does require workers' compensation benefits be provided to any person volunteering for a government entity or an agency of the government. That can include volunteer firefighters, volunteer school crossing guards, volunteers in city-run after care programs, or any other person that works for free for any government agency.
Additionally, someone who works for free, under the impression that he or she will be paid later is not a volunteer. The timing between work and payment is irrelevant; if there is the expectation or the promise that work will, at some point, be compensated, the worker is not a volunteer.
Not for Profit Organizations
Many people equate nonprofit organization as being exempt from having to provide workers' compensation. This is not true. In fact, many large nonprofit organizations, with thousands of employees, such as public hospitals, the United Way, Goodwill, and others, are nonprofit organizations that must provide workers' compensation insurance.
A worker can work for a nonprofit organization, and receive a small per diem or reimbursement for expenses, and be considered a volunteer, so long as there is no other salary paid or expected.
Benefits Available
If you are a person who volunteers, but is required to be provided workers' compensation (for example, someone who volunteers at the front desk of a public hospital), you would likely only be able to get medical payments or medical care provided. The part of workers' compensation called indemnity, which sometimes covers lost wages, would not be applicable to you.
Courts are unclear whether an injured worker could get lost wages for being unable to go to their normal non-volunteer job because of an injury that happened while at their volunteer position.
Don't Assume You Don't Get Benefits
Remember that government agencies often contract out with or partner with, private companies all the time. This means that if you volunteer with a private company and are injured on the job, you should not assume that you are not entitled to workers' compensation. Depending on your company's relationship with the government, you could be considered a volunteer for the government, and thus you may be entitled to workers' compensation.
Get help if you have been injured while on the job. The Tampa workers' compensation attorneys at Barbas, Nuñez, Sanders, Butler & Hovsepian can help you if you were injured in an accident while at work, but the insurance company is not paying what you need in order to get medical attention and care. Schedule a consultation today.
https://www.barbaslaw.com/can-you-choose-your-own-workers-compensation-doctor/