What to Do After a Work-Related Injury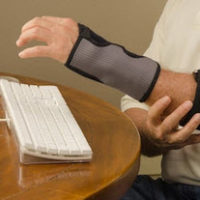 If you are an employee in Florida, it is more than likely that your employer is required to have workers' compensation insurance if you injure yourself on the job. If reported and filed a workers' compensation claim can help you recover lost wages and pay for medical expenses associated with the injury. Included in workers' compensation coverage are medical issues like suffering a total disability, a critical injury, permanent disability, in addition to death.
Florida workers' compensation law can be found in Chapter 440 in the Florida Statutes.
Full-time employees working for businesses who employ four or more people must offer workers' compensation. However, there is an exemption pertaining to construction companies.
How much time am I allowed to take under workers' compensation provisions?
An injured worker is eligible to receive up to 260 weeks of temporary compensation under Florida statutes. During that covered time, the employee has to remain unable to work or under a "no work" status in order for benefits to be claimed. Importantly, if an employee is barred from working due to the employer's inability to provide appropriate resources and even if the employee could work with specific assistance, then that employee could be eligible for workers' compensation. If you believe that your employee could assist you in returning to work, but is not, then you should seek the assistance of an attorney.
Can I be fired for reporting a work-related injury?
Under Florida Statutes Section 440.205, employers cannot fire a worker for filing a workers' compensation claim. However, there are no legal provisions requiring employers to Florida to hold a job for an employee who cannot work based on a work-related injury. This distinction is important because while your employer cannot fire you only because of your workers' compensation claim, they can fire you while you have an ongoing workers' compensation claim.
If you are an at-will employee, you can be fired for any legal reason including poor work performance, layoffs due to the business's financial problems, or any restructuring of the company. If you have filed a workers' compensation claim, then this might be a reason that your employer seeks your termination.
Obviously, employers will not blatantly tell an employee who has filed for workers' compensation that it is their claim that caused the termination because it is illegal to discharge an employee based on a workers' compensation claim alone. If you believe that you have been fired based on a workers' compensation claim, you may want to talk with an attorney about filing a lawsuit based on discrimination or retaliatory termination.
Contract employees differ from at-will employees in that your employment is based on the terms of the employment contract. Even contractual employees may not be fired as a result of filing a workers' compensation claim. Specifically, your employment contract will outline the reasons for which you could be fired from your job. Pay careful attention to these contacts because a frequent clause in employment contracts is a provision that allows an employer to terminate employment if an employee is unable to work for a given period of time. Then, employers could and do often terminate employees based on long-term workers' compensation claims using this contractual agreement, and it is usually legal. Contact an attorney if you have a question about your employment contract.
Let Us Help You Today
It is good to consult with an experienced attorney if you have questions about your workers' compensation claim. The Tampa workers' compensation attorneys at Barbas, Nuñez, Sanders, Butler & Hovsepian are ready to talk with you about your claim and assist you moving forward.
Resource:
leg.state.fl.us/statutes/index.cfm?App_mode=Display_Statute&URL=0400-0499/0440/0440ContentsIndex.html
https://www.barbaslaw.com/florida-supreme-court-rules-on-workers-compensation/